Winemaking Data

Marechal Foch, DeChaunac and Rougeon are used in roughly equal proportions to create Red Expression. The fruit is processed via Thermal Vinification to extract color from the skins without extracting astringent tannin from the seeds. The juice is then settled 24 hours and racked to ferment in stainless steel tanks. The must is fermented cool like a white wine to retain bright fruit aromas and flavors. ML completes in tank and the finished wines are racked and naturally cold stabilized before assembling the final blend.
Tech Data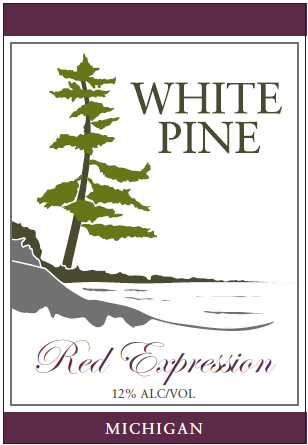 Appellation: Lake Michigan Shore
Alcohol: 12.3% pH: 3.39 TA: 6.4
Residual Sugar: 2.5%
Blend: 35% Marechal Foch; 33% DeChaunac; 32% Rougeon
Aging: Stainless Steel Closure: Cork
Case production: 150
Tasting Notes

Red Expression is the perfect wine for any occasion, loaded with intense aromas of raspberries, dark cherries and plums. The palate is silky smooth highlighting the bright fruit flavors. Pair with everyday foods like pasta, chili or your favorite grilled dishes.