White Pine Winery
Southwest Michigan Winery and tasting room
Autumn News 2022
Greetings from White Pine! The summer is going by way too fast as they always do. We have been very busy in the vineyard thinning crop, hedging shoots and removing leaves from around the grape clusters to create the best possible ripening environment for the fruit. There is a nice crop and conditions look very good for an outstanding vintage.
The grapes are going through veraison in our early varieties, soon to be followed by later ripening varieties like Riesling and Cabernet franc. It's an exciting time where we can watch the vines turn sunlight into wine.
In St Joe the Tasting Room has been alive with action all summer. The Downtown Social District is a big hit with our guests who have been enjoying Pinot grigio, Riesling, Traminette, Lady Slipper Rose' and Sangria by the glass.
The Big Lake is as warm as it gets and there are still plenty of warm days ahead to enjoy where we live and the fruit of our vines, soil and this special place we call home.
Early this summer our family traveled to the Pacific Northwest where we had the opportunity to visit Oregon's Willamette Valley. Winemaker's there are focused on producing the best wines they can that showcase the site, soil and soul of the vineyards. This is really what motivates us at White Pine too. The trip to Willamette served as a reminder of our roots and who we are. With that in mind we have provided deeper insights into our philosophy of wine growing and wine making. Check it out here at our website.
We are nearly sold out of the Riesling Reserve '20 vintage and the Traminette '20. The Teroldego Reserve '20 is selling fast since it was rated 94 points / Exceptional by Tastings.com and the Cabernet franc reserve '18 is nearly gone. Stock up soon while supplies last!
White Pine Early Spring Blog
White Pine Early Spring Blog, 2020: Sophie's Vineyard
March 10, 2020
Dave Miller
I am writing this blog on my daughter, Sophie's, 21st birthday. The vineyard on our farm in Lawton is named "Sophie's Vineyard" after her because it was planted in 1999, the year Sophie was born. Today I am reminded of so many memories of Sophie's upbringing but, also of the vineyard.
After finishing my PhD in grapevine physiology at MSU, I took a job with St Julian to teach the growers how to grow wine grapes to improve the fruit quality. I wanted to use my own vineyard as a demonstration plot to show the steps of canopy management, crop estimation and adjustment and the nuance of producing top quality wine grapes. I decided that I would plant only vinifera vines when I made the first planting here to show growers how to use VSP (Vertical Shoot Positioned) trellising to grow high quality vinifera.
White Pine Winter News
White Pine Winter Blog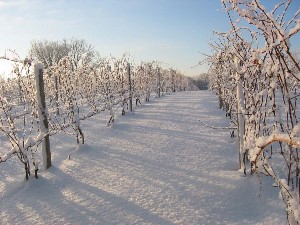 December 20, 2019

It's a day before the winter solstice and I can finally feel it: things are slowing down and we can rest and reflect. Yeah! It's been a great year in so many ways. We have made many new friends in the tasting room and shared the message about our old-world style wines. It is satisfying to know there are lots of fans of our wines out there!

The 2019 wines have finished fermenting and are resting after the active phase of fermentation. Red wines will go into barrels soon and the process of Elevage will continue! There is little activity in the winery while the wines rest and mature. We bottled the 2018 Reserve Reds to make room for the 2019's and we have a new addition to the White Pine family: Borealis Reserve. Borealis is a blend of Teroldego, Marquette and Cabernet franc, mostly from Daddy Long Legs vineyard near Frankfort, Michigan. The wine is still quite young but has been well received since its recent release. Black Cherry, plumb and blueberry aromas and flavors with a hint of truffle, and a luscious, silky, full bodied palate keep customers coming back for more. Stop in and try it or, try our Reserve Red flight of 5 wines for $10.

The vineyard grew back nicely this year and is resting as it gets ready to make another vintage of delicious wine in 2020. We will be adding trellising to our new planting in the spring and looking forward to producing Traminette, Lady Slipper Rose', Mirage, Chardonnay and Marquette from our own land. That will be followed closely by a new tasting room at the vineyard / winery outside of Lawton, in 2021 if the stars align as hoped. Stay tuned…

Downtown in St Joe, the Christmas shoppers are out, the weather is surprising mild for December, and we are feeling happy! Our daughter, Sophie, is on her way home for the holidays and it will be great to be together again as a family. We know most of you are feeling the same so have a Merry Christmas and Happy Holidays! Come see us if you are out as we will be open and pouring wine through January 5th!
White Pine Winter Blog
White Pine Winter Blog 2020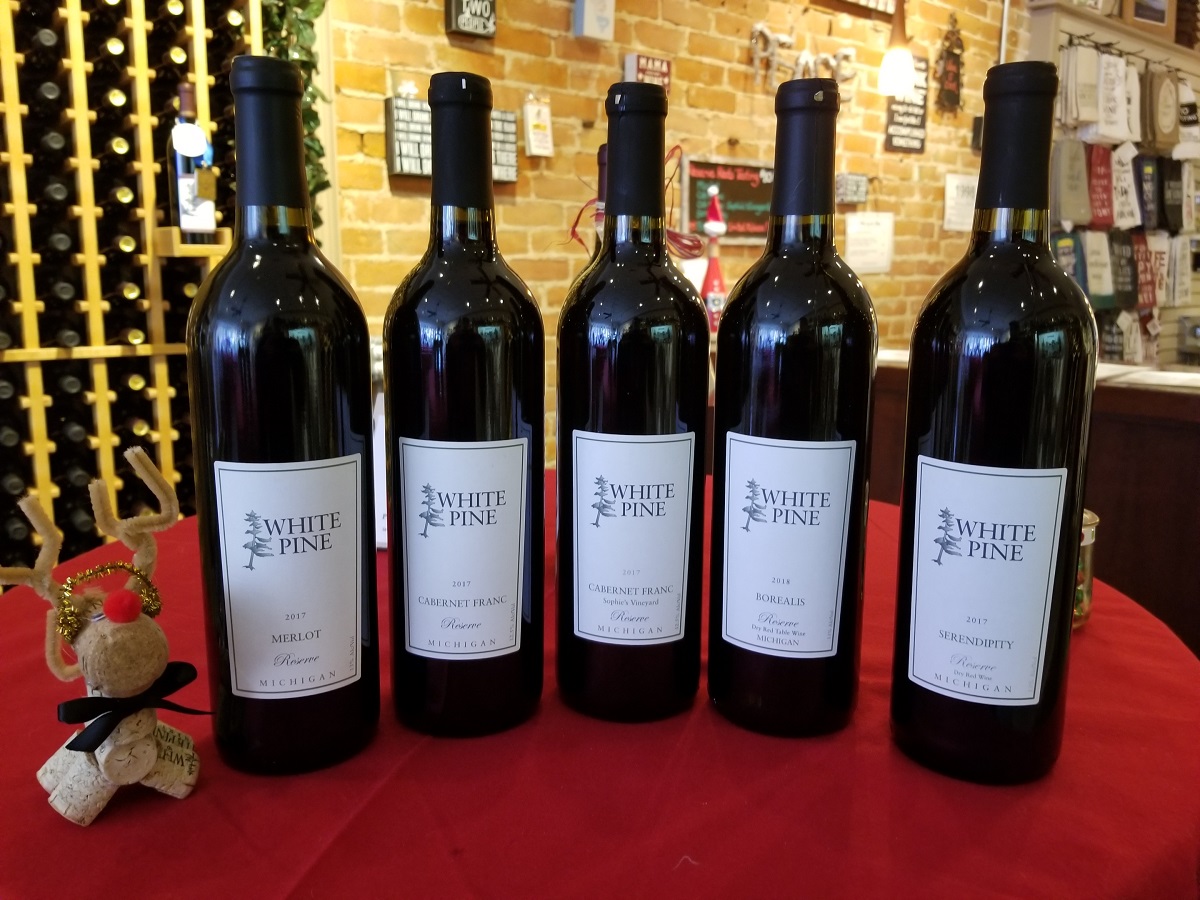 February 14, 2020
by: Dave Miller
I recently attended the Unified Wine and Grape Symposium in Sacramento, California. It is the largest show for the grape and wine industry in North America so it's the perfect place to learn about what's new in equipment, wine making and grape growing and, the latest industry trends. During the conference I heard time and again about the grape-glut that has gripped California (reports are that there is an excess of 30,000 acres of grapes) and, wine sales have stopped growing, a trend that has been ongoing for well over 2 decades. So what's going on?
Blame it on millennials.
Spring in the Vineyard
It's spring time! TIme to finish pruning the bearing vines and get the young vines ready for the growing season. We cut back the vines to 4 or 5 buds at the base in their 2nd season so they can grow a strong shoot that will become the trunk for the new vine. The grow tubes protect the new growth from wind, deer and weed sprays. Very soon we will build the trellis for these vines. Stay tuned as we show you their progress this year!