White Pine Winery
Southwest Michigan Winery and tasting room
White Pine Winery Summer News, 2021
May 27, 2021
Dave Miller
Summer is here and we love it! Summer 2021 looks fantastic! We love where we live and we love sharing it, especially what comes from our land – wine.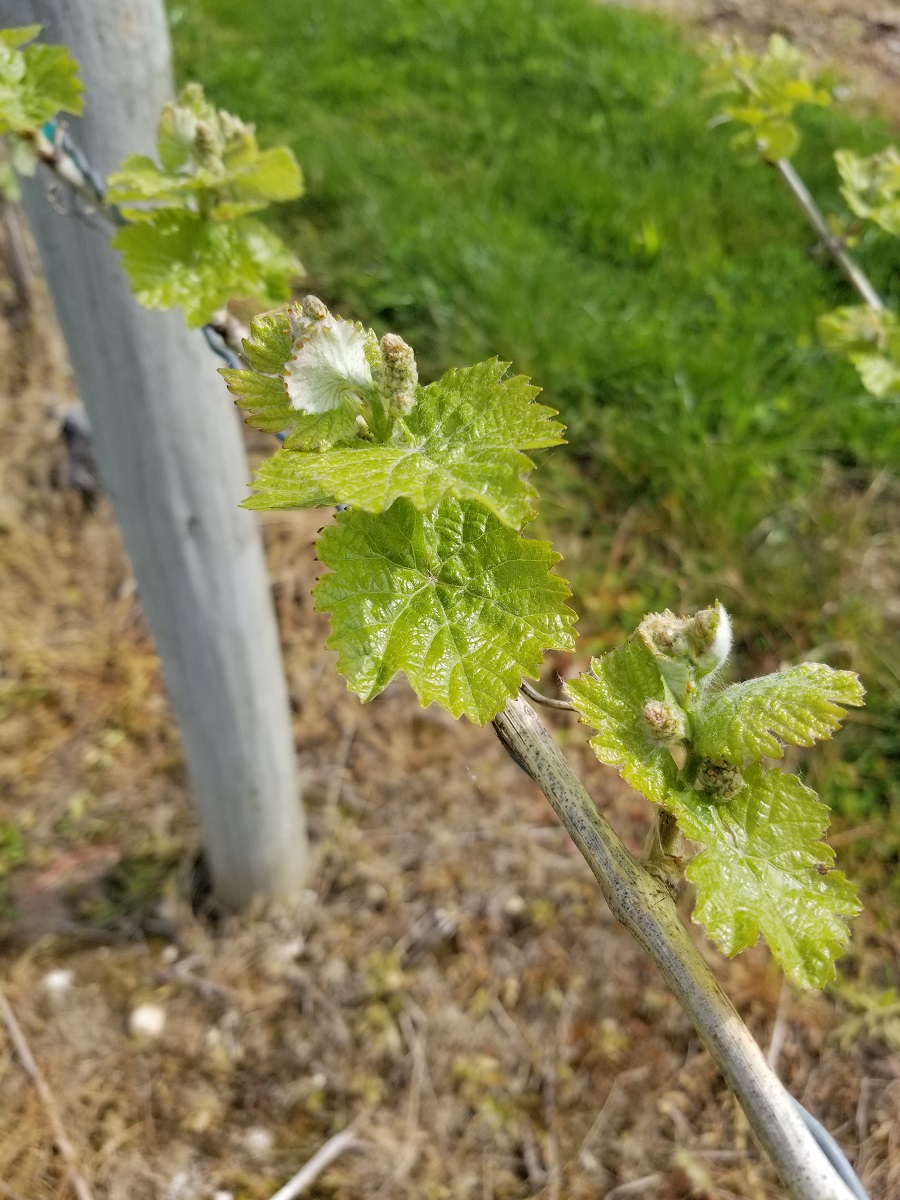 In the vineyard, the vines escaped damage from frost the mornings of May 10th through the 12th. Shoots are growing and the flower clusters will soon bloom and set the 2021 vintage. I love working with the vineyard, especially in a year like 2021 when there is great crop potential and, the possibility for a great vintage (great vintages occur during dry years). The vineyard crew is removing suckers from vine trunks and extra "frost canes" we left just in case.
Our new Chambourcin vines will produce their first crop this year along with Marquette. Those grapes will make Dune Shadow Red, Lady Slipper Rose' and Mirage. Traminette is a year behind and will bear fruit in '22. Sadly, our Chardonnay vines were killed by a hard freeze during spring 2020. As much as we want Chardonnay on our land, we are very aware when Mother Nature sends a signal that a variety is not well suited to a site. That was the message we got last year so we replanted the Chardonnay block with more Riesling and Cabernet franc vines. We included some new Cab franc clones and are excited to try the wine in a couple of years.
New Releases for Spring 2021
We have four new-release wines for you to enjoy: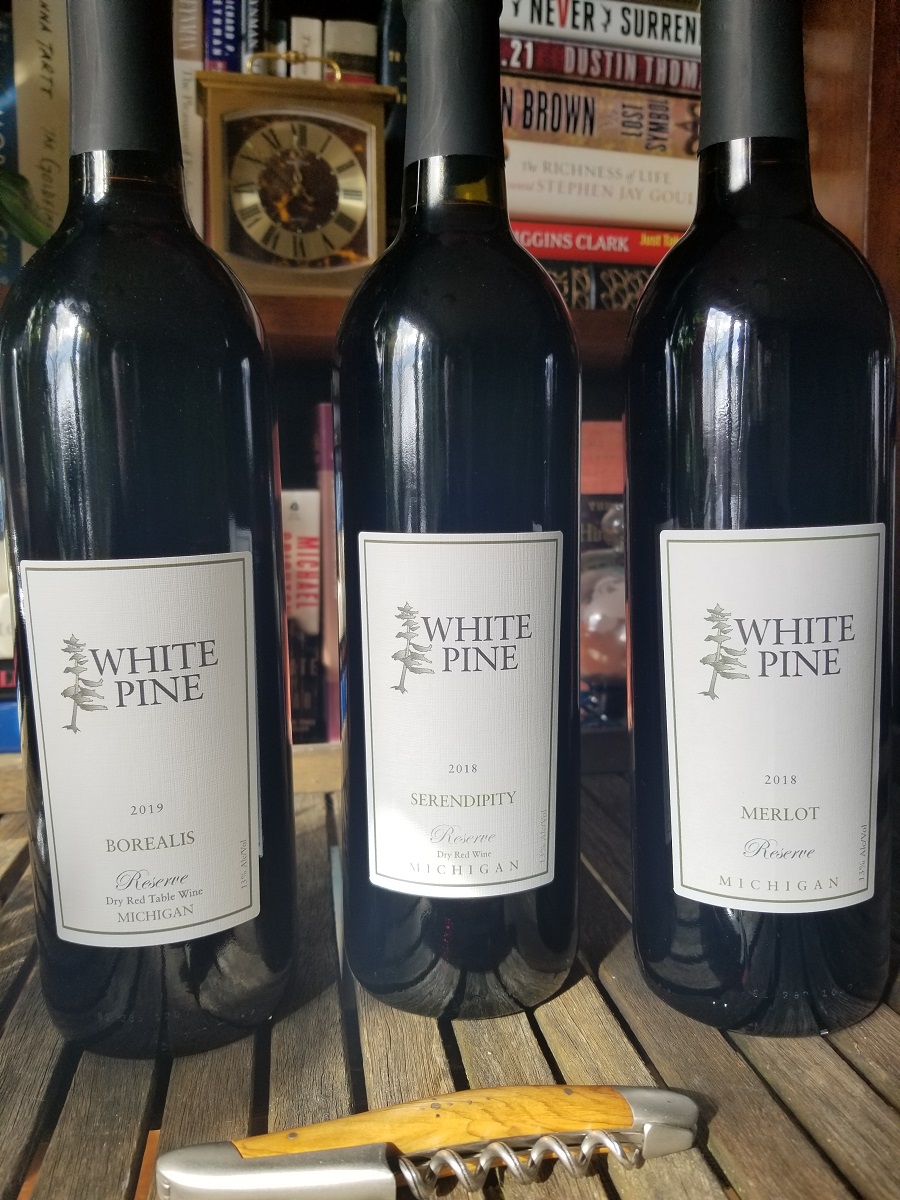 Our reserve reds are sourced from low yielding vineyards to produce wines loaded with flavor and character. All of the wines are aged for a minimum of 12 months in French Oak barrels. This time honored tradition produces the finest quality wines.
2018 Reserve Merlot: Ruby red. Loaded with dark cherry and berry notes, silky smooth tannins and hint of allspice on the finish. Offered at $5 discount - $23.99
2018 Reserve Serendipity: Deep Ruby with raspberry and blueberry aromas and a hint of mocha. Our classic Bordeaux blend of Merlot, Cabernet sauvignon and Cabernet franc. Firm tannins in the mid palate show off the Cab sauvignon. Always a customer favorite. $28.99
2019 Reserve Borealis. A blend of Teroldego and Marquette. Deep ruby with a hint of violet show the wines youth. Teroldego brings and earthy component of truffle that's complimented with dark cherry from Marquette. Very much in its youth but promises to develop beautifully. $28.99
2019 Pinot grigio Leelanau Peninsula. Bright and crisp with melon, pear, apple and a hint of lime zest. A spring favorite! $18.99
New Release: 2019 Pinot grigio!
New Wine Release:
We are pleased to announce the release of our 2019 Pinot grigio, Leelanau Peninsula: Our newest Pinot grigio was produced using fruit from the Leelanau Peninsula appellation from the 2019 vintage. You may recall that we had no vinifera grapes in southwest Michigan in 2019 due to the Polar Vortex which killed our vines to the snow. So we sought fruit from our friends to the north so we could keep as much Michigan content as possible in the 2019 vintage. The wine is light straw color with hints of Granny Smith apply, honeydew melon and a touch of lime zest. The palate shows bright acidity perfectly balancing the flavors and leading to a refreshing finish. We know you're going to love this as much as we do!
White Pine Spring News 2021
White Pine Spring News
White Pine is open daily for wine tasting! Beginning March 1st we are open from noon to 5pm Sunday through Thursday and noon to 6pm Friday and Saturday. Tastings are $8 for 4 samples (complimentary for Wine Club members). We are following COVID safety precautions of wearing masks, sanitizing surfaces between guests and limiting capacity to 50%. We ask our guests to wear masks, space out and be patient and we'll get through this together!
Restaurants are open and at 50% capacity. Join us in St Joe and enjoy a taste of spring along the lake shore.
Winery News:
The 2021 winter is winding down and we loved it! Just enough snow to ski and play but no seriously cold temperatures. The vines are rested and ready to make grapes! We are pruning vines now and are ready to take the first grapes from our newest planting. With the prolonged cold in February we expect normal bud break near the end of April. The 2020 vintage was outstanding! Let's try for a repeat.
In the cellar, 2020 vintage wines have settled and stabilized during the cold months. Riesling, Muscat Ottonel, Lady Slipper Rose' and our new, Reserve Pinot are being finished and readied for bottling. The red wines will continue resting in barrels and going through what the French call 'elevage' or an "elevation" from coarse, young wines to elegant, refined wines.
The 2019 reds were bottled near the end of last year and will have some time to develop in the bottle. In the vintage was different since we had little fruit due to the polar vortex. We did source Chardonnay and Pinot grigio from northwest Michigan and know you are going to love those wines as much as we do. More on them when they are bottled. There was virtually no Cabernet franc or Merlot available in Michigan last year so we purchased fruit from Washington. The wines are very nice and getting better with each passing day, but they won't be ready to bottle until late fall.
Vineyard News:
2021 will see us planting about 1/3 acre each of Riesling and Cabernet franc. We have some new Cab franc clones to try that are very highly rated in the ENTAV (French) system. We can't wait to get them planted and on their way to producing fine wine. We will plant the same Riesling clones used in the past which continue to produce classic wines.
Now that we are in March pruning begins on our Vitis vinifera vines – Riesling and Cab franc. We worked on Chambourcin and Marquette during the mild December and January and have those ready to go. The higher sun angle and longer, warmer days mean spring will be here soon!
Upcoming Events
March Mannequins: Friday March 12, from 7 to 8:30pm. Live Mannequins will grace the windows of downtown shops. Enjoy an evening in St Joe and stop in for a glass of wine or tasting.
White Pine Fall News - Celebrate our 10th Anniversary!
White Pine Fall News 202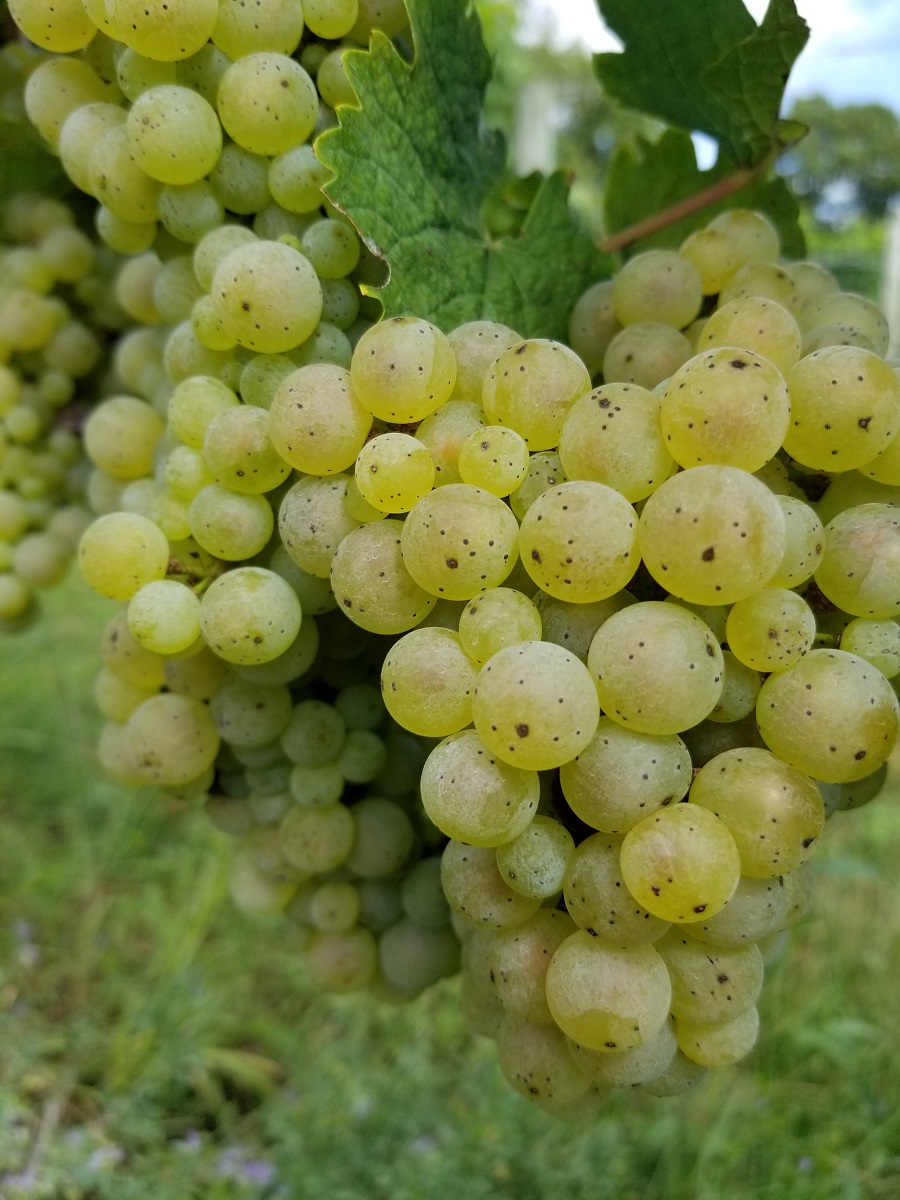 0
By Dave Miller
We're celebrating White Pine's 10th Anniversary this month (September)! We wonder where the time went but we are happy to be here and producing the kind of wines we think best showcase the terroir of southwest Michigan. Help us celebrate by taking 5% off 4 bottles; 10% off 6 bottles and 15% off 12 or more bottles. Wine club members get 15% off starting at 6 bottles. Stock up on some of our limited production and experimental wines like Borealis 2018 and Muscat Ottonel 2019!
Labor Day has passed and cooler temperatures have arrived– a sure sign that fall is here along with grape harvest and wine making season. We couldn't be happier! This year we have a nice crop of grapes that are ripening perfectly in the warm, dry conditions. It's going to be a very good vintage. In fact, it's going to be a great vintage! If one looks back at the great vintages in Europe, they always come following warm, dry summers with just enough rain to keep the vines active. That allow the grapes to accumulate sugar and make flavor and color.
But the dry weather also brings with it less pressure from molds and mildews, less bunch rot, less vine canopy growth which keeps the grapes exposed to the sun and, less weed growth which just makes it easier to manage the vines. The forecast for cooler weather ahead will enhance color development while at the same time retaining acidity for wine balance and longevity. Oh, yeah, there are going to be great wines this year!
We are thankful that we are looking at a spectacular vintage after everything all of us have endured this year. If we look hard, there are some good things to remember about 2020: more family time, more time out of doors (my favorite 😉), a slower pace to life and now, great wine.