White Pine Winery
Southwest Michigan Winery and tasting room
White Pine Winery Mid-Summer News!
Summer has finally arrived with a vengeance… we love it! Lake Michigan is warm enough for swimming and the tourists are here in droves. We love where we live and we love sharing it, especially what comes from our land – wine.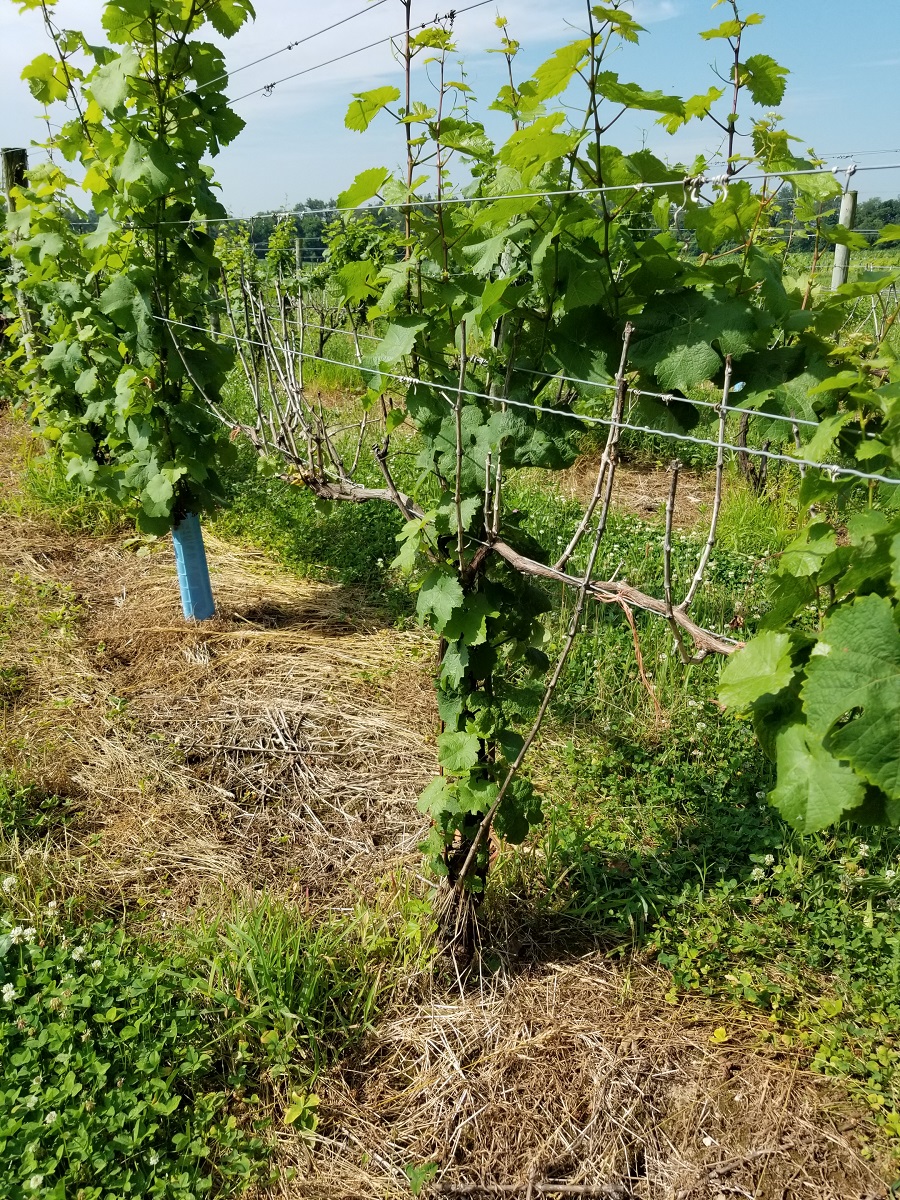 In the vineyard we are retraining vines in the original block called "Sophie's Vineyard" that was planted in 1999. While there is no crop to speak of, the vines are growing back nicely which promises for great potential in 2020. The young block we planted in 2018 is coming along fine and we are anxiously waiting for our contractor to install the trellis so we can continue training the vines. We planted Chambourcin, Traminette and Marquette, all resistant hybrids which can produce a crop after a cold winter like 2019. We also planted Chardonnay which makes a classic, white Burgundy – style wine from grapes grown here in Michigan. Those vines will produce their first crop in 2021.

In the winery we have released: 2017 Cabernet franc Reserve; 2017 Cabernet franc Reserve Sophie's Vineyard ; 2017 Mirage and 2017 Riesling Reserve. All are wonderful wines and are very popular with our summer guests.
In the Tasting Room we are offering a flight of Reserve Red wines in the tasting room which includes: 2017 Teroldego Reserve (very limited supplies), '17 Cab franc, '17 Cab franc Sophie's Vineyard, '16 Merlot and '16 Serendipity all for $10. These wines are only available in the tasting room so stop in and try them!
Summer is a wonderful season to enjoy all that our great state has to offer. Check out some upcoming events in our neighborhood:
Chardonnay Reserve 2018 - New Release!
The 2018 Reserve Chardonnay and Non-vintage Effervescence sparkler have been released just in time for spring!
2018 Reserve Chardonnay: This is fermented in neutral oak barrels and the lees (yeast sediment) stirred for 7 months prior to racking in April. The flavors are rich and complex from barrel aging and show off lemon curd, apple, fig and creme brulee'. You will want some of this in the cellar for the coming summer months. Pair with soft cheeses, summer salads, grilled veggies and your favorite preparation of Lake Michigan Perch.
NV Effervescence Sparkling wine: Our philosophy is to make the best possible wine we can from our grapes, using old-world techniques. Many of the best methods are time-consuming and expensive but, wow are they worth it! The Effervescence is crafted using the traditional methode' champenoise in which the 2nd fermentation is done in the bottle. The yeast sediment is left in contact with the wine for 12 to 18 months before disgorging, and finishing. The extended lees contact is the source of complex flavor and aroma and tiny, creamy bubbles that can only be had by using the traditional method. Effervescence is finished dry and crisp and is perfect for summer entertaining.Pair with raw oysters or prosciutto and melon. Yum!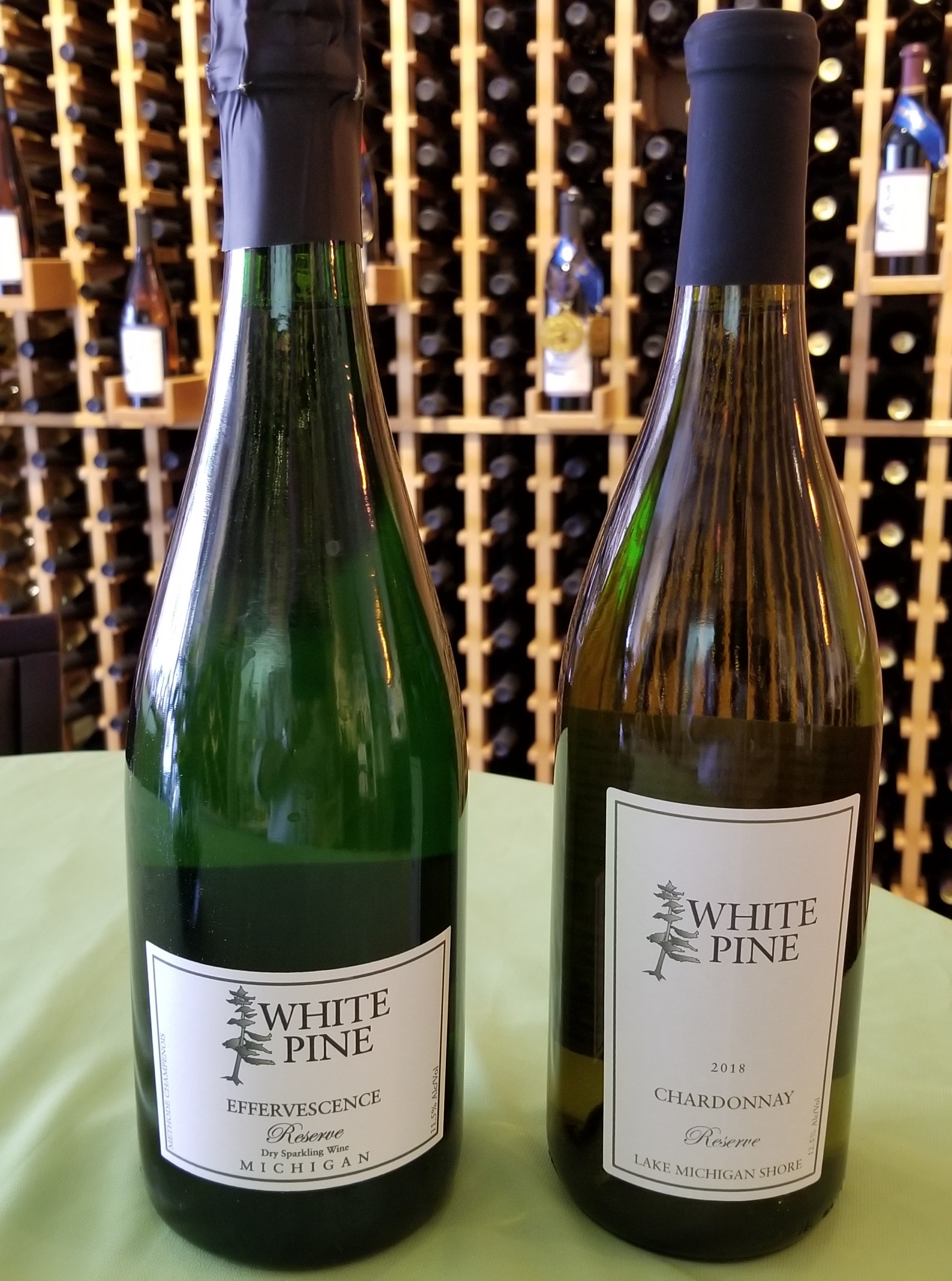 New Wine Releases for Spring!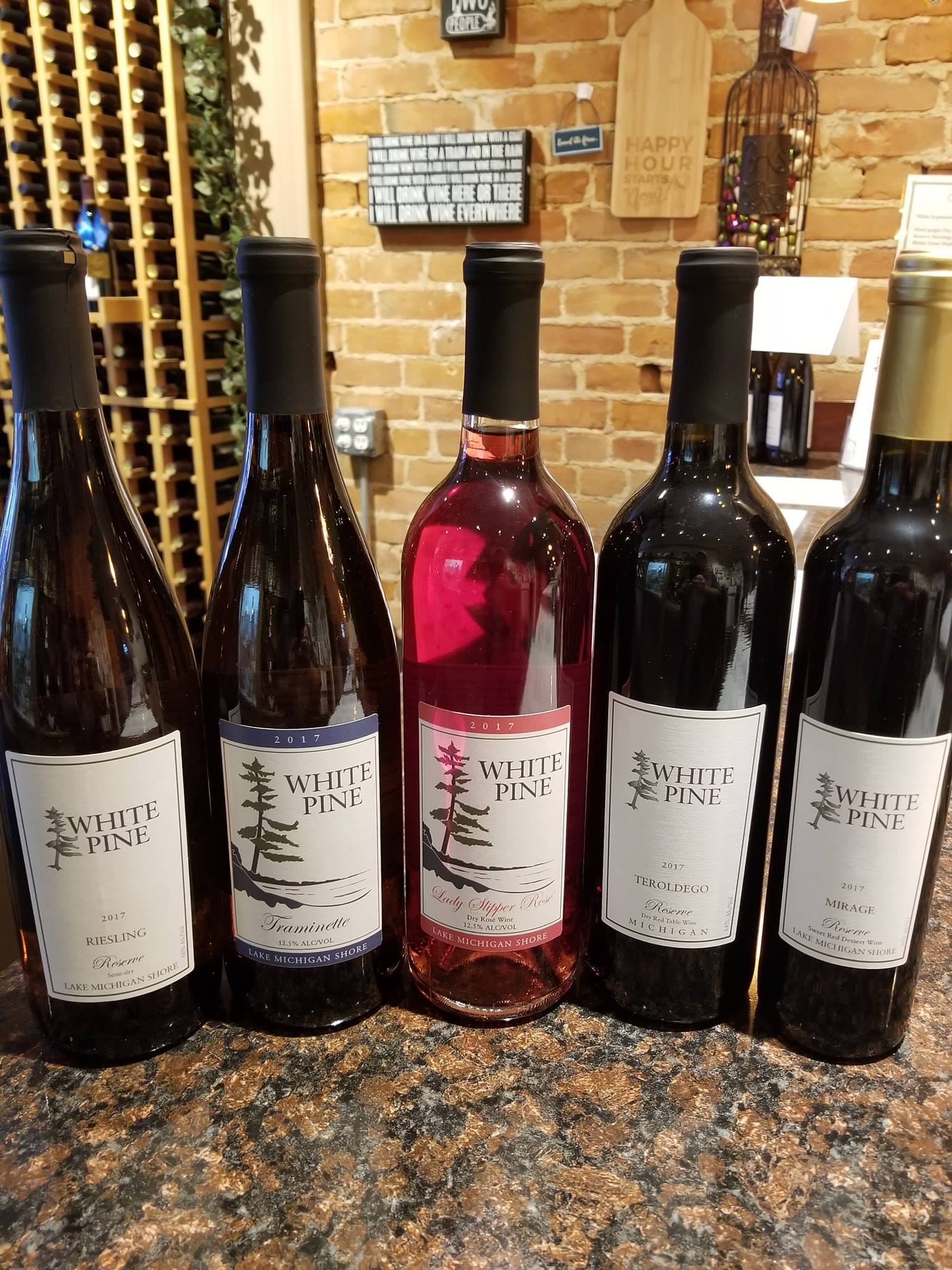 White Pine Spring News 2019

The Spring Equinox is here and we couldn't be more excited! We have some great new wines for you to sample in the tasting room, some new awards and our 5th annual Celebrate Spring! Food and wine pairing event is just around the corner.

New Releases:
2017 Lady Slipper Rose': The 2nd vintage of our Old World-style, dry rose'. This wine won a gold medal at it's first competition the Michigan Wine Competition! It's beautiful, garnet color leads to a palate of spring berries and early summer cherries. It's soft on the tongue with just enough acid to balance the fruit and make it perfect for pairing with anything from the grill.

2017 Reserve Riesling: This is our traditional, Kabinet -style where we stop the fermentation to retain sweetness from the grapes. By not fermenting all of the sugar, the alcohol content is kept at around 10%. With just a hint of sweetness, flavors of apricot and green apple and mouth watering acidity, this wine will pair with any spring bounty from the forests and fields of the upper Midwest.

2017 Mirage: Our 2nd vintage of this instant classic. This is our Port-style dessert wine where we add wine spirits to increase the alcohol to 20% and then sweeten for a long finish. It is the way to end any meal or, just to have a sip at the end of a long day wandering the dunes in southwest Michigan.

2017 Pinot grigio: Michigan Pinot grigio is more like its European counterparts than like California examples from this grape. Our 2017 is bursting with apple and melon with a hint of pear that overlay crisp acidity. It's a light, refreshing wine that is our go-to on the summer deck.

2017 Traminette: Traminette is the daughter of Gewurztraminer and Seyval blanc. Loaded with peach and mango aroma with orange blossom highlights. A hint of sweetness balances the acidity and let's the fruit flavors shine! Pair with Thai curry or anything from southeast Asia.
2017 Teroldego: Pronounced Ter al' di go – this is an ancient Italian variety tradtionally grown in the foothills of the Dolomite Mountains in northern Italy. Our grapes come from Daddy Long Legs vineyard near Frankfort, MI Deep, ruby color leads to an earthy, rich palate with hints of plum, truffle, cigar box and a hint of mocha. Only 35 cases were produced of this experimental wine so get some while you can!
Spring news from the vineyard and winery

Spring is here and we are ready for another season in the vineyard, the winery and in the tasting room. In the vineyard, we are pruning the vines to prepare for the coming growing season. The polar vortex in January caused lots of cold damage in the vines so we expect to have little or no crop in our Riesling and Cabernet franc vines this year. Bummer. On the bright side, we made a lot of wine in 2017 and 2018 so we will squeak by with less and maybe a little wine from Washington or Oregon to get us through. The severe winters of Michigan are one of the reasons we use "resistant hybrids" in our viticulture. Resistant hybrids are crosses of American grapevines with European grapevines that are resistant to diseases and pests and, they are more cold-tolerant than the Vitis vinifera from Europe. Since they are better able to withstand cold, the resistant hybrids will have a crop this year: Awesome! We use resistant hybrids in a number of our wines including Mirage, Lady Slipper Rose', Ice Wine, Red Expression, Dune Shadow Red and White Expression. In other words, we will definitely have wine!
New Release: 2017 Reserve Mirage
New Wine Release: 2017 Reserve Mirage:
This is our 2nd vintage of this delicious dessert wine. Produced in a "Port-style" which means we add grape spirits to bring the alcohol content to 20%, then sweeten to the perfect balance to sip with dessert. Hints of dark cherry, plum and mocha are intriguing and pair perfectly with anything chocolate. This hasn't been entered in competitions yet but the folks at Tastings.com had this to say about the 2016 vintage:
Bright dark violet color. Aromas of mulberry, bramble, and wild mint with a round, lively, sweet medium body and a warming, compelling, relaxed fruitcake, chocolate covered butterscotch, and English toffee finish with medium tannins and a suggestion of oak flavor. A port-style wine for delicious dessert pairings.
2016 Reserve Mirage - Silver Medal; Highly Recommended