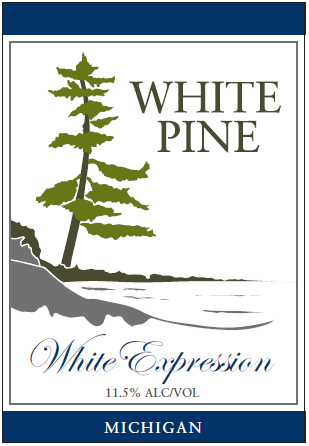 Winemaking Data

White Expression is a blend of Vidal Blanc, Seyval Blanc, Vignoles and Cayuga White. All varieties are harvested and processed within 4 hours of harvest. The must is chilled and settled for 24 hours before racking to ferment in jacketed stainless steel tanks. The finished wines are settled, racked and cold stabilized naturally during Michigan's winter. The final blend is assembled after the base wines are polish filtered. White Expression is sweetened to 3.5% residual sugar before bottling the spring following harvest so it can be enjoyed while young and vibrant.
Tech Data

Appellation: Lake Michigan Shore
Alcohol: 12.5% pH: 3.29 TA: 6.8
Residual Sugar: 3.5%
Aging: Stainless Steel Closure: Cork
Case production: 240
Tasting Notes

Lovely aromas of peach, melon and honeysuckle dominate this wine. Delicate flavors of apple, pear and mango are supported by crisp acidity leading to a long, satisfying finish that begs for another sip. Our White Expression is an excellent accompaniment to traditional fare and spicy fare such as Asian cuisine.