White Pine Mid Summer Eve Blog, 2020: A Beautiful Vintage in the Making
July 16, 2020
Dave Miller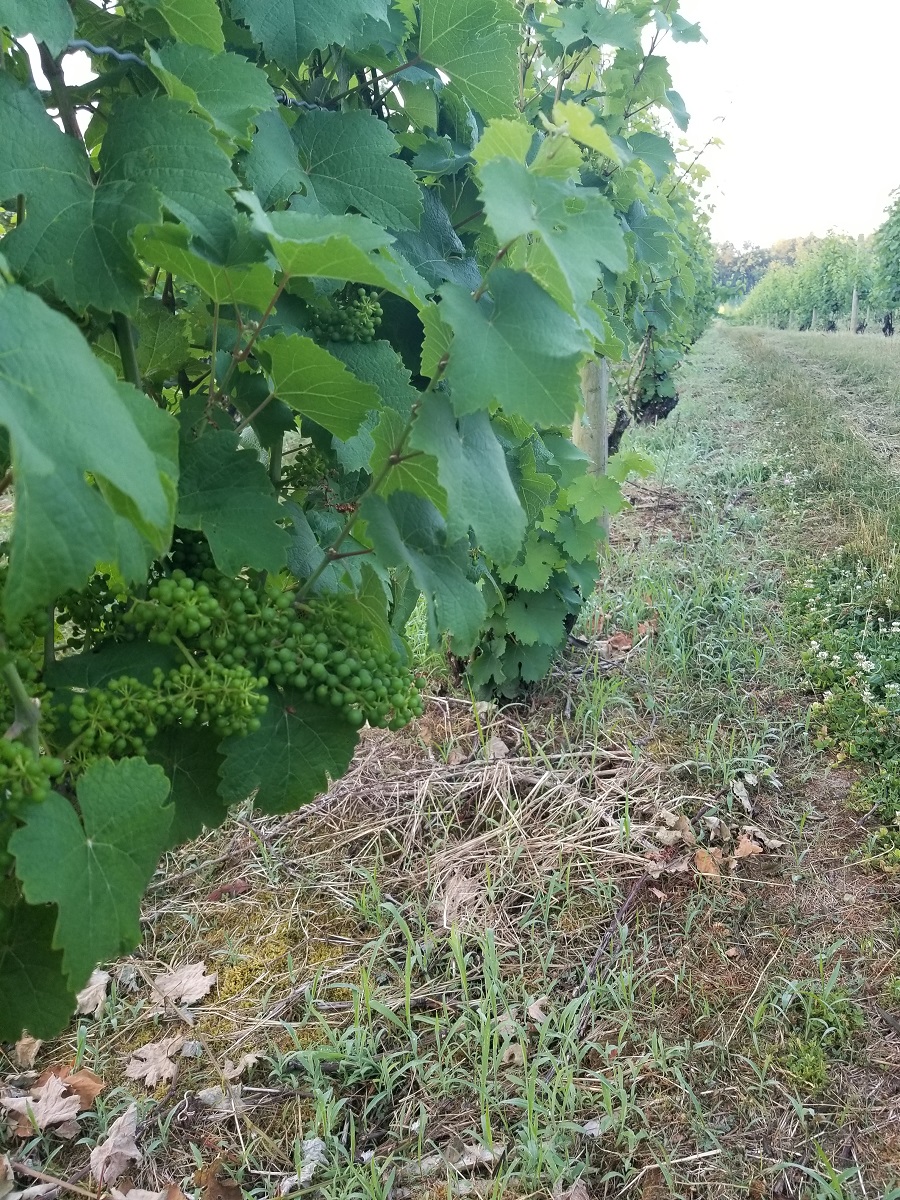 I was looking at my last blog, written March 10th, and couldn't help but wonder at how our lives have changed since then. Whoa! When we learned that we had to close our tasting room with only curbside pickup it was frightening – how long would it last? When would be able to sell wine in the tasting room again? Would we have enough resources to survive? One of the first things I did was start pruning the vines. Normally I would pay someone for that task but this year I needed to save money. As I worked day after day in the vineyard I remembered how much I enjoy being outdoors during spring. I watched the Sandhill Cranes migrate north along with countless other birds who visited the vineyard on their way north for summer. I also got reacquainted with my vines and decided to do things a little differently this year to keep up with vineyard tasks. A primary rule of thumb in vineyard work is: do the job on time or it takes twice as long. If one gets behind in the vineyard work the work that needs to be done builds up to the point where you can't get caught up. Then the fruit quality suffers. I was determined that would not happen this year. So far, so good. The crop looks awesome and the vines are beautiful, having just been hedged. The dry conditions bode well for a great vintage. Dry weather means low disease pressure, low weed pressure, small leaves (meaning open vine canopies), and small berries. Small berries / grapes means high surface to volume ratio which leads to intense wines. Of course we never know what the vintage will bring until the grapes are harvested and the wine is in the cellar, but I like what I see.
An important observation I have made: the grapevines don't notice all the hubbub about Covid 19. They are making grapes and getting ready for the next winter. It's comforting to be in the natural world, away from media and all the anger that we hear too often. The vineyard is peaceful, natural and quietly making wine. I love it!
Our new planting is growing nicely and will yield its first, small crop next year. Chambourcin, Traminette, Chardonnay and Marquette from the home farm sounds real nice. And then there is the tasting room we are planning to put by the vineyard… We wanted to build it in 2021 but Covid is pushing back that plan to 2022. In any event, the vineyards are doing nicely. The 2019 Pinot grigio, Reserve Chardonnay and our new Muscat Ottonel are headed to the bottler and will be ready for release before the end of July. Stay tuned as these are awesome wines produced from fruit sourced in the Traverse City area. We had to purchase out of AVA fruit last year because our crop was lost to the polar vortex. The new wines are worth a trip to taste and buy a few bottles to take home. The lots are small but the wine is nothing short of yummy!
White Pine has been looking for ways to increase sales in this bizarre year. We recently registered as a wine shipper to Illinois and are working on our Indiana registration as I write. So if you want our wine and want to stay home, give us a call and we'll ship it to you! We are offering very low shipping rates too (call for current details 269 281-0098).
Stop in and try our new tasting format – 4 wines for $8. We do our best to space people, sanitize our space between guests and all our staff wear facemasks. We will get through this by working together #staysafestayopen.