White Pine Winery
Southwest Michigan Winery and tasting room
New Releases for Spring 2021
We have four new-release wines for you to enjoy: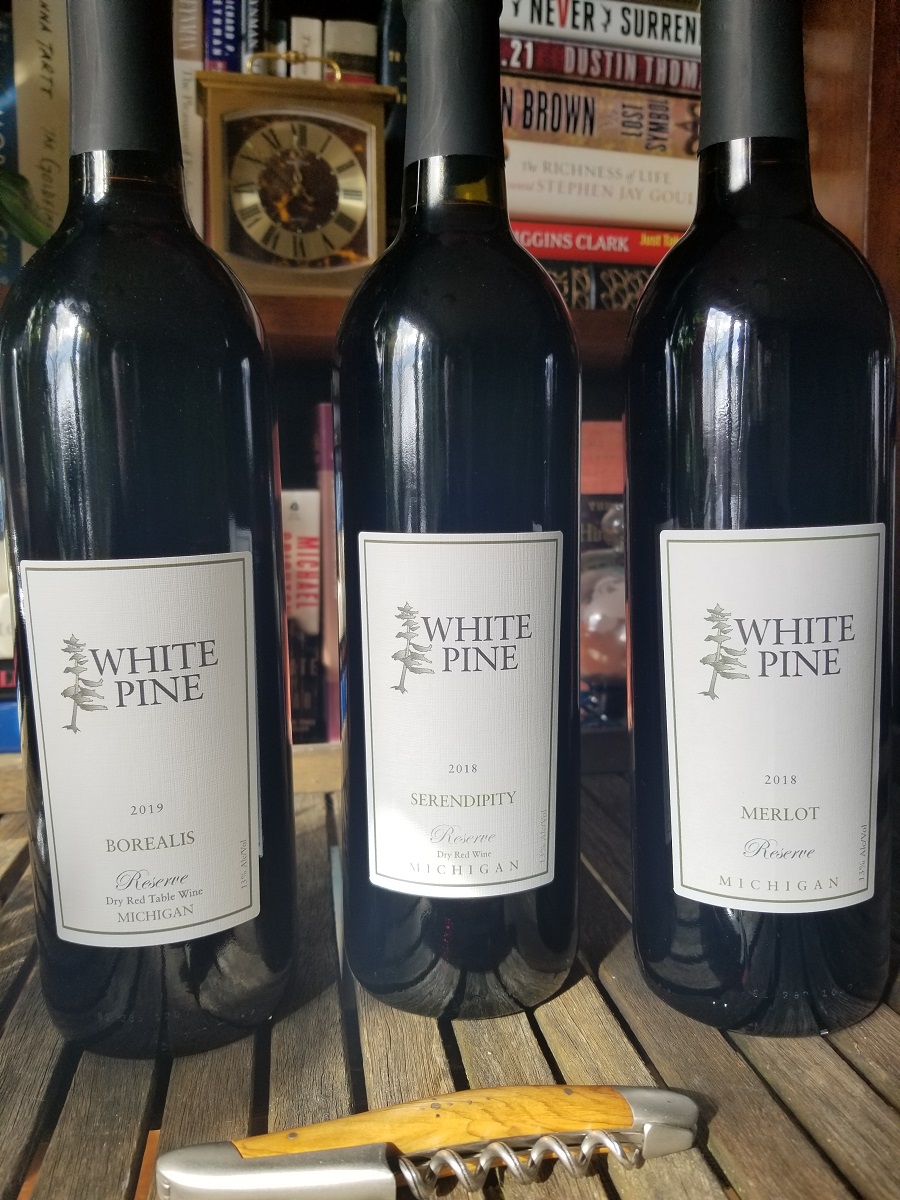 Our reserve reds are sourced from low yielding vineyards to produce wines loaded with flavor and character. All of the wines are aged for a minimum of 12 months in French Oak barrels. This time honored tradition produces the finest quality wines.
2018 Reserve Merlot: Ruby red. Loaded with dark cherry and berry notes, silky smooth tannins and hint of allspice on the finish. Offered at $5 discount - $23.99
2018 Reserve Serendipity: Deep Ruby with raspberry and blueberry aromas and a hint of mocha. Our classic Bordeaux blend of Merlot, Cabernet sauvignon and Cabernet franc. Firm tannins in the mid palate show off the Cab sauvignon. Always a customer favorite. $28.99
2019 Reserve Borealis. A blend of Teroldego and Marquette. Deep ruby with a hint of violet show the wines youth. Teroldego brings and earthy component of truffle that's complimented with dark cherry from Marquette. Very much in its youth but promises to develop beautifully. $28.99
2019 Pinot grigio Leelanau Peninsula. Bright and crisp with melon, pear, apple and a hint of lime zest. A spring favorite! $18.99
White Pine Fall News - Celebrate our 10th Anniversary!
White Pine Fall News 202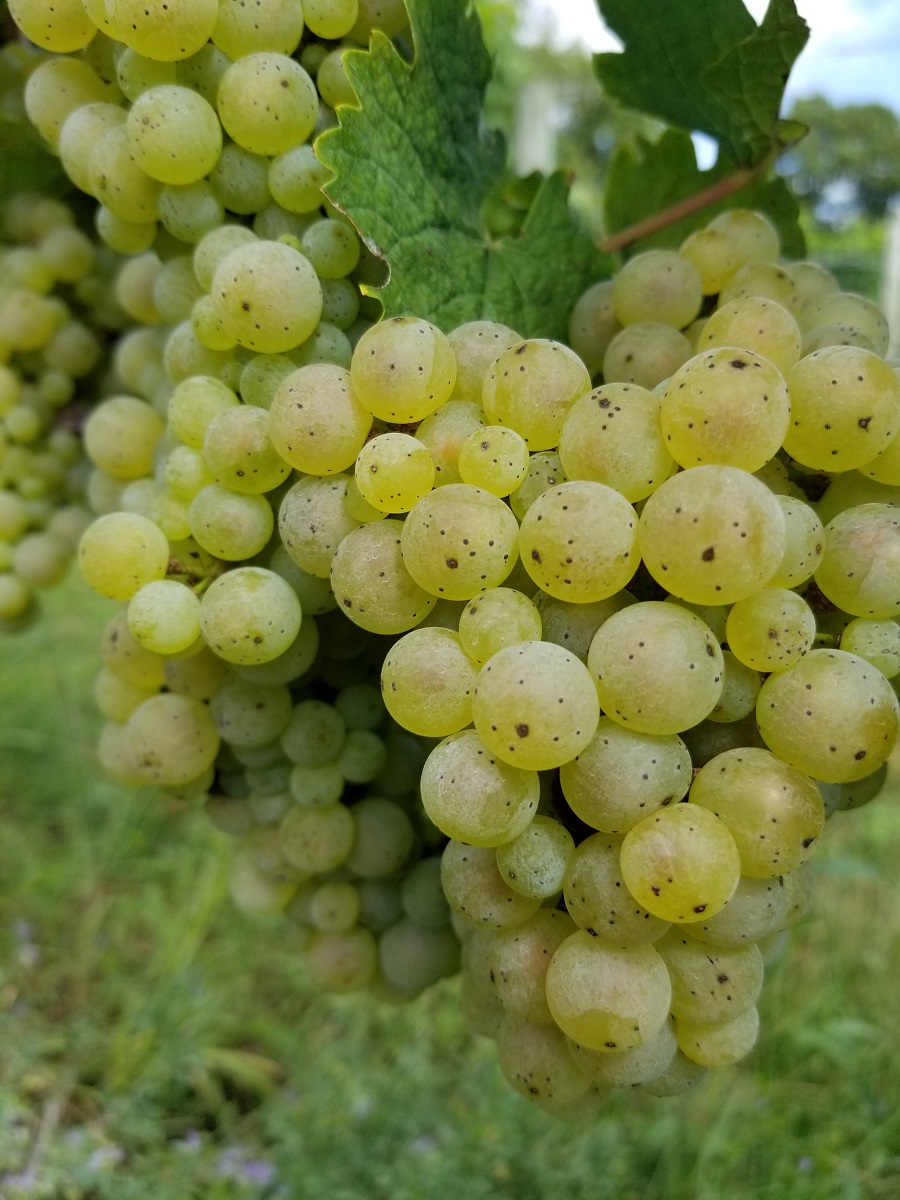 0
By Dave Miller
We're celebrating White Pine's 10th Anniversary this month (September)! We wonder where the time went but we are happy to be here and producing the kind of wines we think best showcase the terroir of southwest Michigan. Help us celebrate by taking 5% off 4 bottles; 10% off 6 bottles and 15% off 12 or more bottles. Wine club members get 15% off starting at 6 bottles. Stock up on some of our limited production and experimental wines like Borealis 2018 and Muscat Ottonel 2019!
Labor Day has passed and cooler temperatures have arrived– a sure sign that fall is here along with grape harvest and wine making season. We couldn't be happier! This year we have a nice crop of grapes that are ripening perfectly in the warm, dry conditions. It's going to be a very good vintage. In fact, it's going to be a great vintage! If one looks back at the great vintages in Europe, they always come following warm, dry summers with just enough rain to keep the vines active. That allow the grapes to accumulate sugar and make flavor and color.
But the dry weather also brings with it less pressure from molds and mildews, less bunch rot, less vine canopy growth which keeps the grapes exposed to the sun and, less weed growth which just makes it easier to manage the vines. The forecast for cooler weather ahead will enhance color development while at the same time retaining acidity for wine balance and longevity. Oh, yeah, there are going to be great wines this year!
We are thankful that we are looking at a spectacular vintage after everything all of us have endured this year. If we look hard, there are some good things to remember about 2020: more family time, more time out of doors (my favorite 😉), a slower pace to life and now, great wine.
New Release: 2017 Reserve Mirage
New Wine Release: 2017 Reserve Mirage:
This is our 2nd vintage of this delicious dessert wine. Produced in a "Port-style" which means we add grape spirits to bring the alcohol content to 20%, then sweeten to the perfect balance to sip with dessert. Hints of dark cherry, plum and mocha are intriguing and pair perfectly with anything chocolate. This hasn't been entered in competitions yet but the folks at Tastings.com had this to say about the 2016 vintage:
Bright dark violet color. Aromas of mulberry, bramble, and wild mint with a round, lively, sweet medium body and a warming, compelling, relaxed fruitcake, chocolate covered butterscotch, and English toffee finish with medium tannins and a suggestion of oak flavor. A port-style wine for delicious dessert pairings.
2016 Reserve Mirage - Silver Medal; Highly Recommended
May is Michigan Wine Month!
White Pine Winery May Specials
2 May 2020
May is Michigan Wine Month so we are offering the following specials to celebrate:
10% off bottled wine
20% off cases(12 or more bottles – mix and match)
Flat rate shipping in Michigan: $15
We hope to be able to offer tasting flights and wine by the glass after May 15th. Stay tuned!
We are open Tuesday's and Saturday's from 11 am to 3 pm to process shipping orders and for curbside pickup. Contact us any time to place your order and then pickup Tuesday or Saturday.
Phone: 269 281-0098; email: This email address is being protected from spambots. You need JavaScript enabled to view it..
Check out the link at the Michigan Wine Collaborative for more information and special events during May in Michigan: Michigan Wine Collaborative
Stay safe and we will see you soon!
Life Between The Vines Interview with White Pine Owner / Winemaker Dr Dave Miller
Dr Dave Miller talks about his career in the Michigan wine industry starting with his graduate studies at MSU, working in a large, corporate winery at St Julian, and to his current status as owner and winemaker at his own, boutique winery.
Check out his story: Life Between The Vines Podcast: Dr Dave Miller of White Pine Winery