White Pine Winery
Southwest Michigan Winery and tasting room
White Pine Fall News - Celebrate our 10th Anniversary!
White Pine Fall News 202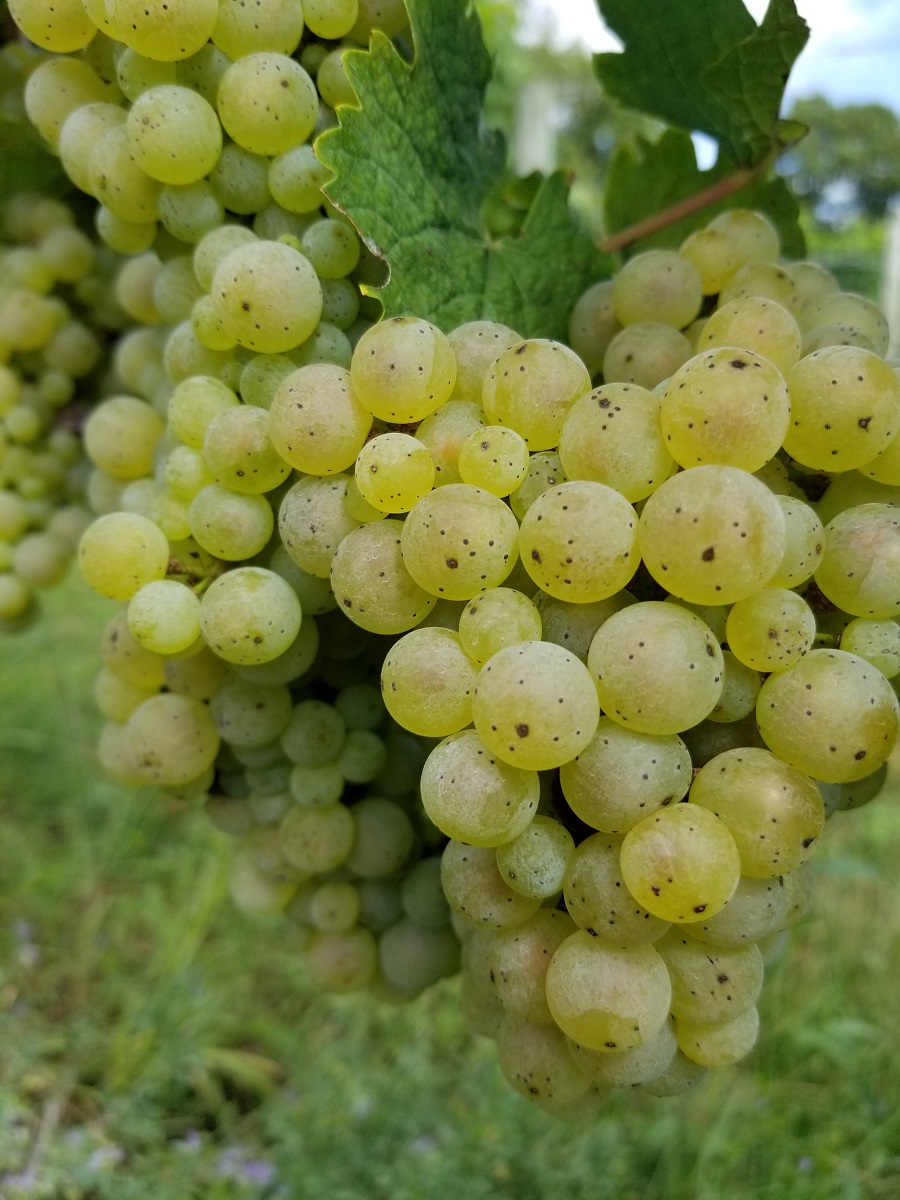 0
By Dave Miller
We're celebrating White Pine's 10th Anniversary this month (September)! We wonder where the time went but we are happy to be here and producing the kind of wines we think best showcase the terroir of southwest Michigan. Help us celebrate by taking 5% off 4 bottles; 10% off 6 bottles and 15% off 12 or more bottles. Wine club members get 15% off starting at 6 bottles. Stock up on some of our limited production and experimental wines like Borealis 2018 and Muscat Ottonel 2019!
Labor Day has passed and cooler temperatures have arrived– a sure sign that fall is here along with grape harvest and wine making season. We couldn't be happier! This year we have a nice crop of grapes that are ripening perfectly in the warm, dry conditions. It's going to be a very good vintage. In fact, it's going to be a great vintage! If one looks back at the great vintages in Europe, they always come following warm, dry summers with just enough rain to keep the vines active. That allow the grapes to accumulate sugar and make flavor and color.
But the dry weather also brings with it less pressure from molds and mildews, less bunch rot, less vine canopy growth which keeps the grapes exposed to the sun and, less weed growth which just makes it easier to manage the vines. The forecast for cooler weather ahead will enhance color development while at the same time retaining acidity for wine balance and longevity. Oh, yeah, there are going to be great wines this year!
We are thankful that we are looking at a spectacular vintage after everything all of us have endured this year. If we look hard, there are some good things to remember about 2020: more family time, more time out of doors (my favorite 😉), a slower pace to life and now, great wine.
White Pine Winery Summer News, 2020 Edition!
Summer News
May 30, 2020
Summer has finally arrived with a vengeance… we love it! Lake Michigan is warm enough for swimming and some have accepted the challenge. Visitors have arrived, albeit cautiously. Stores are reopening, also cautiously as we all find a balance between staying safe and staying in business. We love where we live and we love sharing it, especially what comes from our land – wine.
In the vineyard, the shoots are growing and the flower clusters will soon bloom and set the crop for the 2020 vintage. I love working with the vineyard, especially in a year like 2020 when there is so much uncertainty in the world. The vines are going through their annual growth cycle as they have done for millions of years. The vines will grow on, make grapes and complete another cycle, no matter the troubles of Man. So far the vintage is looking good! But there is a long time between now and October when we will harvest the fruit. So send positive Karma our way!
Our new vineyard of Chambourcin, Traminette, Marquette and Chardonnay now has a trellis and is looking like a vineyard We planted Chardonnay to make a classic, white Burgundy – style wine from grapes grown here in Michigan. The other varieties will make Lady Slipper Rose' Mirage, and red blends like Dune Shadow Red. Those vines will produce their first crop in 2021.
In the winery we are anxiously anticipating the 2019 Chardonnay and Pinot grigio. Both are from Northern Michigan since the southern vineyards didn't have crop last year. Both are excellent and we can hardly wait to share them. We also have Muscat Ottonel for the very first time. The fruit is from our friends at Daddy Longlegs Vineyards in Beulah, MI. It is classic Muscat! It will be finished semi-sweet with great acidity for balance. Our reds are from Washington State fruit – Merlot and Cabernet franc. They will continue to mature in barrels until at least fall. The Covid 19 shutdown has slowed sales and our bottling plans have been delayed. Watch here for updates!
Summer is a wonderful season to enjoy all that our great state has to offer. This year more than ever is a chance to check out the great outdoors and stay away from the crowds. It's safe and it's a heck of a lot of fun. Nearly all of the summer events and activities in St Joe and southwest Michigan have been canceled. But we can still entertain ourselves! Be sure to pickup local wine and food-to-go from your favorite local restaurant. Your business now will insure we are still here next year.
The tasting room hours are noon to 5 pm Tuesday, Friday and Saturday through June 30th. Watch Facebook and our newsletters for updates as the situation evolves. Stay safe and have fun!
Dave Miller
New Release: 2017 Reserve Mirage
New Wine Release: 2017 Reserve Mirage:
This is our 2nd vintage of this delicious dessert wine. Produced in a "Port-style" which means we add grape spirits to bring the alcohol content to 20%, then sweeten to the perfect balance to sip with dessert. Hints of dark cherry, plum and mocha are intriguing and pair perfectly with anything chocolate. This hasn't been entered in competitions yet but the folks at Tastings.com had this to say about the 2016 vintage:
Bright dark violet color. Aromas of mulberry, bramble, and wild mint with a round, lively, sweet medium body and a warming, compelling, relaxed fruitcake, chocolate covered butterscotch, and English toffee finish with medium tannins and a suggestion of oak flavor. A port-style wine for delicious dessert pairings.
2016 Reserve Mirage - Silver Medal; Highly Recommended
May is Michigan Wine Month!
White Pine Winery May Specials
2 May 2020
May is Michigan Wine Month so we are offering the following specials to celebrate:
10% off bottled wine
20% off cases(12 or more bottles – mix and match)
Flat rate shipping in Michigan: $15
We hope to be able to offer tasting flights and wine by the glass after May 15th. Stay tuned!
We are open Tuesday's and Saturday's from 11 am to 3 pm to process shipping orders and for curbside pickup. Contact us any time to place your order and then pickup Tuesday or Saturday.
Phone: 269 281-0098; email: This email address is being protected from spambots. You need JavaScript enabled to view it..
Check out the link at the Michigan Wine Collaborative for more information and special events during May in Michigan: Michigan Wine Collaborative
Stay safe and we will see you soon!
Life Between The Vines Interview with White Pine Owner / Winemaker Dr Dave Miller
Dr Dave Miller talks about his career in the Michigan wine industry starting with his graduate studies at MSU, working in a large, corporate winery at St Julian, and to his current status as owner and winemaker at his own, boutique winery.
Check out his story: Life Between The Vines Podcast: Dr Dave Miller of White Pine Winery