Holiday News 2020:
The first snow flakes of the season are in the air so the holidays must be getting close. 2020 has been a strange year to say the least and the holidays are going to be different this year too. Let's look at what's happening at White Pine and see what we're doing to help with your holiday wine, shopping and to make the best of the situation.
Harvest News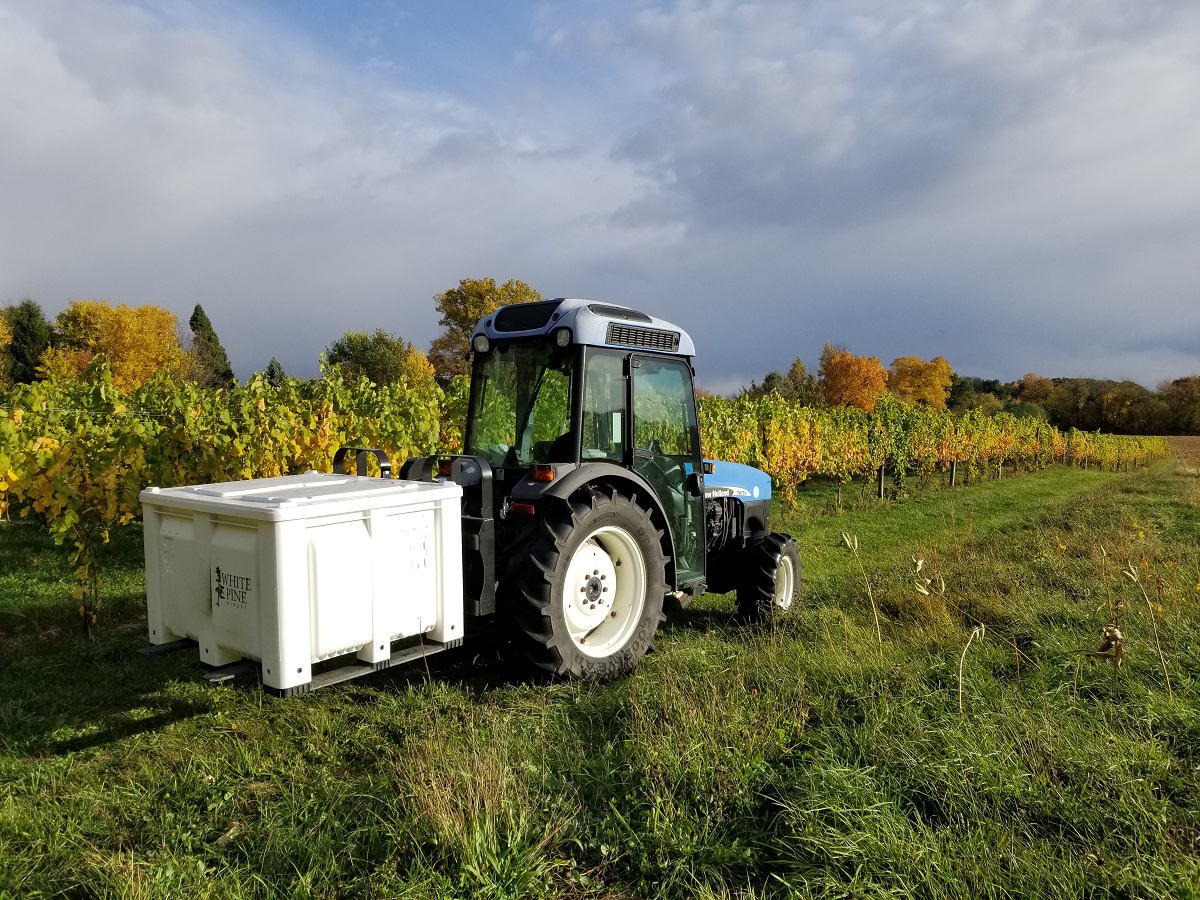 Harvest is done and it was a spectacular vintage! We crushed more grapes this year than ever before and we are excited about what is in the tanks. Fruit maturity and balance, color, aroma and flavor tell us this year is going to be like 2017, 2010 and 2005 in quality. Now that's some good news from 2020! We still have red wines in fermenters that have to be pressed. Then it's time to assemble the 2019 red blends and bottle them!
Red Wines
The 2019 reds are from grapes we purchased from Washington since our crop was wiped out by the Polar Vortex. The Polar Vortex seems like it happened so long ago (almost two years) but the impact is still working its way through our wines. The 2019 reds are excellent and we can't wait to share them with you. They will be available in early '21 so watch Facebook and our website for news of new releases.
White Wines
We will release our 2019 white wines soon too. We were able to source Chardonnay from Old Mission Peninsula and Pinot grigio from Leelanau Peninsula to produce Michigan white wines last year. Both wines are classic examples of the cool climate style that northwest Michigan vineyards are known for. The Pinot grigio is crisp, light and refreshing, in a style reminiscent of New Zealand Sauvignon bland. The Chardonnay is made in the style of White Burgundy, fermented in neutral barrels and lees stirred for 9 months for complexity and richness on the palate. A firm acid backbone supports fig, apple, lemon curd and a hint of crème brulee on the palate. We love the new wines and know you will too!
Make Holiday Shopping Easy:
We are offering the following discounts for wines this holiday season: 5% off 4 bottles; 10% off 6 bottles; 15% off 12 or more bottles.
Shipping is $12 for up to 6 bottles in Michigan; $6 for 12 bottles. That's right, buy a case of wine and it costs less to ship than a smaller volume. We are licensed to ship in Michigan, Illinois and… we should be able to ship to Indiana by November 10, 2020.
We also offer curbside pickup. To purchase and ship wine or plan a pickup, call us at 269 281-0098 or email This email address is being protected from spambots. You need JavaScript enabled to view it.. We will get your wines on their way to you to enjoy!
There are still some events in St Joe this holiday season:
Luminary Night: Friday, November 20th from 5 to 8 pm in downtown St Joe. See downtown dressed up for the holidays and sample mulled wine at the tasting room!
Window Wonderland: Friday, December 4th from 7:00 to 8:30 pm. Check out and vote on your favorite window display in downtown St Joe.
Reindog Parade: Saturday, December 5th, 3:00pm. See hundreds of dogs dressed for the holidays parade down State Street.
We ask that everyone visiting St Joseph and White Pine Winery please observe COVID rules: Wear a Mask, Social Distance, Observe Capacity Limits and, bring your positive attitude!
We hope to see you soon!
Dave Miller