White Pine Winter Blog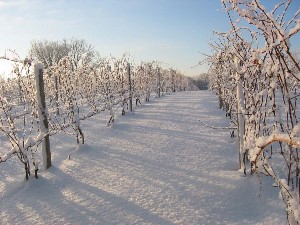 December 20, 2019

It's a day before the winter solstice and I can finally feel it: things are slowing down and we can rest and reflect. Yeah! It's been a great year in so many ways. We have made many new friends in the tasting room and shared the message about our old-world style wines. It is satisfying to know there are lots of fans of our wines out there!

The 2019 wines have finished fermenting and are resting after the active phase of fermentation. Red wines will go into barrels soon and the process of Elevage will continue! There is little activity in the winery while the wines rest and mature. We bottled the 2018 Reserve Reds to make room for the 2019's and we have a new addition to the White Pine family: Borealis Reserve. Borealis is a blend of Teroldego, Marquette and Cabernet franc, mostly from Daddy Long Legs vineyard near Frankfort, Michigan. The wine is still quite young but has been well received since its recent release. Black Cherry, plumb and blueberry aromas and flavors with a hint of truffle, and a luscious, silky, full bodied palate keep customers coming back for more. Stop in and try it or, try our Reserve Red flight of 5 wines for $10.

The vineyard grew back nicely this year and is resting as it gets ready to make another vintage of delicious wine in 2020. We will be adding trellising to our new planting in the spring and looking forward to producing Traminette, Lady Slipper Rose', Mirage, Chardonnay and Marquette from our own land. That will be followed closely by a new tasting room at the vineyard / winery outside of Lawton, in 2021 if the stars align as hoped. Stay tuned…

Downtown in St Joe, the Christmas shoppers are out, the weather is surprising mild for December, and we are feeling happy! Our daughter, Sophie, is on her way home for the holidays and it will be great to be together again as a family. We know most of you are feeling the same so have a Merry Christmas and Happy Holidays! Come see us if you are out as we will be open and pouring wine through January 5th!